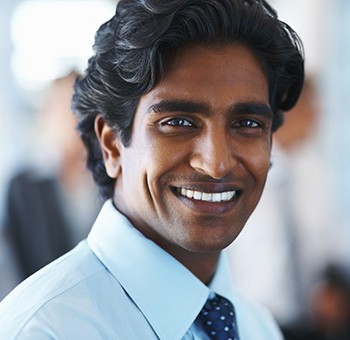 Dental crowns are one of the best ways to repair chipped, cracked, or broken teeth. With modern dentistry, a dental crown can be designed to look and feel natural, blending into your beautiful smile. Dental crowns restore tooth functionality and appearance while protecting your tooth from future problems.
A dental crown, also known as a cap, is carefully placed over your natural tooth, providing protection and strength. Our practice uses tooth-colored porcelain crowns custom-made to match your natural teeth. Whether you need a dental crown after a root canal or to protect a broken tooth, our goal is to make your smile beautiful again.
Benefits of Dental Crowns
There are numerous benefits to getting a dental crown from Desoto Family Dental Care. These benefits include the following:
Each dental crown is custom-crafted, in order to ensure high quality and comfort for our patients.

Our porcelain crowns are designed to blend in with your natural teeth. We will color-match your new crown with your other teeth to create a seamless look to your smile.
We make dental crowns that are strong and durable. With a crown from Desoto Family Dental Care, you can keep eating the foods you love.
Dental crowns are also used to secure dental bridges. Dental bridges fill in the gaps between teeth and are anchored on either side by a dental crown. Dental bridges look just like natural teeth and are a great way to restore beauty and functionality to your smile.
In-House Lab
When our dentist recommends a dental crown, our team will take an impression of your teeth. Using the mold, we are able to create a custom-made porcelain crown designed to fit your mouth. One of the great benefits of using our in-house lab is that we can ensure your crown will fit well and look beautiful.
Give Us a Call Today!
Do you have any questions about our dental crowns or dental bridges? Call our Hernando, MS dental office at 662-429-5239, or contact us here to schedule an appointment today. Improve the quality of your teeth and the look of your smile today!