General & Family Dentistry in Hernando, MS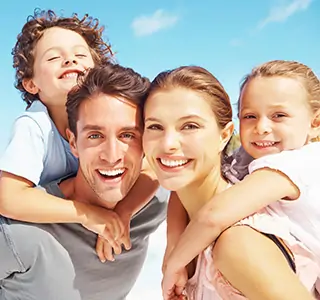 At Desoto Family Dental Care in Hernando, MS, we want to take care of you and your entire family's dental needs and desires. Whether your family is young or old, our team will do our very best to make your visit comfortable and pleasant in the relaxing environment of our office.
Using the latest in modern dental technology, we strive to provide the best in care to each and every one of our patients.
We pride ourselves in being a patient oriented family dentist, and our team provides a wide variety of general & family dentistry services.
General & Family Dentistry Services:
Tooth Cleanings I

Having your teeth cleaned regularly is one of the best ways you can help prevent future dental issues. We provide comprehensive cleanings for our patients in the comfort of our office.
Porcelain Crowns | If you have damaged or decayed teeth, we can restore your smile with beautiful, all natural looking porcelain dental crowns.

Fillings |

We use high quality fillings to help repair your teeth so that you can continue to enjoy optimal dental health.
Teeth Whitening | If your teeth are not as white as you'd like, we can help. We offer two different teeth whitening services that can help you achieve the beautiful, brilliant smile you've always wanted.
Invisalign | Invisalign is a great way to straighten your teeth without traditional braces. Using durable clear plastic trays, Invisalign straightens your teeth gently without the need for wires and brackets. In as a little as nine months to a year, you can have a straighter, more dazzling smile.
Gum disease Treatment | Gum disease affects as much as 80 percent of all Americans. Using our Biolase laser, we can target pockets of gum disease effectively and efficiently.
We are excited to provide our services to the people of Hernando, MS. If you have any questions about how we can help you with your oral health, please call our office at 662-429-5239 or contact us here to schedule an appointment today!