Dr. Jason Parolli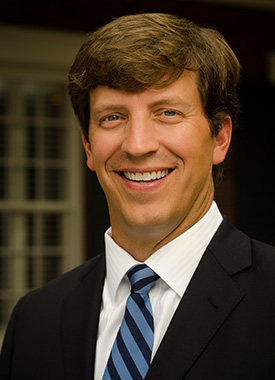 Dr. Jason Parolli was born and raised in Clarksdale, Mississippi. He graduated from Lee Academy in 1991 and went on to receive his undergraduate degree in Economics, with a minor in Biology from Mississippi State University in 1995. The following year, he started dental school and received his Doctor of Medical Dentistry from the University of Mississippi Medical Center in Jackson, Mississippi.
After graduating from dental school in 1999, Dr. Parolli and his wife Cindy, moved to Hernando and joined the practice of Dr. Robert Seymour. Dr. Parolli and Dr. Seymour have been practicing together since 1999, providing great service to the people of Hernando and Desoto County. Dr. Parolli's main objective is to provide an excellent quality of dentistry while making patients feel like they are family. This vision has helped Dr. Parolli earn the award, "Desoto's Best Dentist" two years in a row.
Dr. Parolli is involved with many organizations in the community, having served on the board of the Desoto Economic Council and the YMCA. Other local organizations he is affiliated with include the Hernando Chamber of Commerce and the Krewe of Hernando, which helps encourage community service, and donates time and money to local charities and events. He is currently on the board of the Hernando Soccer Association and was instrumental in the completion of the new soccer complex in 2016. His efforts were recognized when he was awarded the 2016 Volunteer of the Year Award from the Mississippi Soccer Association in Jackson, MS. Dr. Parolli and the team at Desoto Family Dental Care are also proud to be the team doctors for the Mississippi Riverkings Hockey Team.
Dr. Parolli is also active in several dental organizations. He is a member and served as past president of the Tri-Lakes Dental Study Club. In 2015, he served as District II President for the Mississippi Dental Association and is a member of the Dental Organization for Conscious Sedation (DOCS).
Dr. Parolli is married to Cindy Dantone Parolli from Greenville, MS and they have three boys, Dominic, Charlie, and Vincent. He enjoys spending time with his family and attending his boy's activities. He also enjoys hunting, scuba diving and spending time doing mission work in Honduras. Dr. Parolli loves the community of Hernando and looks forward to serving his patients for many years to come.