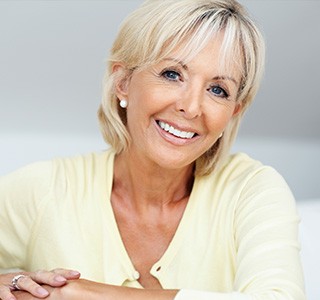 Are you or a family member missing a tooth? Do your teeth have other flaws like permanent damage or stains? If you are hesitant to smile in social situations because of imperfections in your smile, we can help with restorative dentistry.
At Desoto Family Dental Care, we offer a variety of restorative dentistry services to give you a stunning new smile! Our caring and knowledgeable team can answer any questions you have about our restorative services and show you how you can have a full and beautiful smile again.
Restorative Dentistry Services
Dental Crowns | Dental crowns, also known as caps, are designed to fit over your tooth to help preserve and protect your natural teeth from harm. Crowns can also be used to repair teeth with cracks or chips. However, dental crowns are also used to realign misshapen teeth or protect teeth after a root canal.
Dental Implants | If you are missing a tooth, dental implants might be an option for tooth replacement. Dental implants also restore strength to your jaw while providing an anchor point for the new dental crown. By combining a dental crown with a dental implant, we can effectively create a "new" tooth. We work with a specialist that will place your implant before we restore your tooth in our office.
Dental Bridges | Dental bridges are another great option used to fill in gaps caused by missing teeth. A dental bridge is anchored on both sides by natural-looking porcelain crowns to improve the appearance of your smile. Dental bridges look and feel like natural teeth and can restore both your smile and the functionality of your teeth.
Schedule an Appointment Today!
We are excited to offer restorative dentistry treatments that can improve your oral health from the comfort of our office. Our team is standing by to answer any questions you might have about what restorative dentistry can do for you. Give us a call today at 662-429-5239!