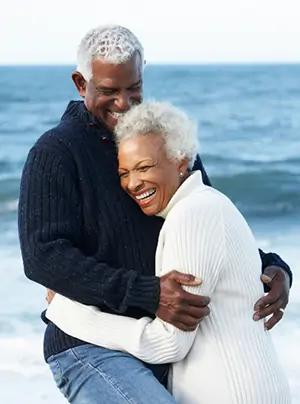 Do you have gaps made by missing teeth that make you self-conscious? Do you avoid social situations because you're too embarrassed to smile? If so, dentures may be a good option for you.
Many of our patients who are missing several teeth avoid family gatherings or parties because they are hesitant about sharing their smiles. In addition to the social limitations, missing teeth can make eating your favorite foods more difficult. Fortunately, we can replace missing teeth with full or partial dentures.
How Can Dentures Help Me?
We understand that losing teeth can be difficult, which is why our caring and compassionate team works hard to provide our patients with custom-designed denture options. Dentures are a great way to improve functionality and appearance, giving you a beautiful and full smile. Depending on your needs, we may recommend full dentures or partial dentures.
At Desoto Family Care in Hernando, MS, we are excited to offer several types of dentures to our patients. If you are interested in finding out more about how dentures can restore your smile, we can help you determine which denture option would work best for you.
Our Dentures Include:
Conventional Dentures | Conventional dentures are a great option if you have very few or no teeth remaining. When you come into our office, we will take a mold of your mouth. Based on that mold, a professionally made set of dentures will be created just for you. Whether partial or full, dentures can complete your smile and boost your confidence.
Implant Supported Dentures | Implant supported dentures are a great way to restore your smile. Implant supported dentures use dental implants to act as anchors for the dentures, making them a permanent solution without having to worry about adhesives or issues with slipping.
Call Us Today!
So you have any questions about our denture treatments, or what options are available to give you a full and beautiful smile? Contact us here or give our Hernando, MS dental office a call at 662-429-5239. Schedule an appointment today!