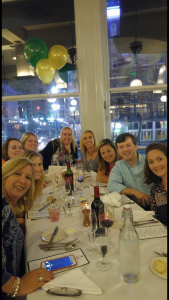 The doctors and staff recently attended the New Orleans Dental Conference in April. There were two main goals for this trip. One, was to learn new things to help improve overall patient care at the office. The second goal was to build camaraderie within our team and strengthen our relationships with each other. We successfully attained both of these goals in New Orleans.
Examples of the classes we attended included:
Oral Pathology – Identifying lesions in the mouth to help diagnose oral cancer
Delivering WOW service – How to better serve our patients
America's Sweet Tooth Obsession – Its impact on oral & systemic health
Top 20 Game Changers in Dentistry Today – new products, techniques, etc.
Our recreation time was spent eating some delicious Cajun food together as well as exploring the city. A great time was had by all and we brought home lots of good ideas to implement at the office.