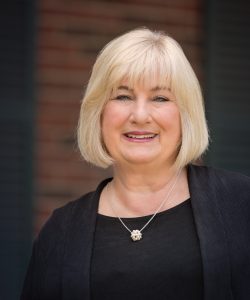 Desoto Family Dental Care is proud to announce that Carla Samuels has joined the DFDC team as our new Office and Operations Manager. Hernando has been Carla's hometown for the last twenty eight years, though, she was born and raised in Memphis, Tennessee. She holds an Associate's Degree of Arts from Northwest Mississippi Community College and continued her education at Union University where she graduated with a Bachelor's Degree in Organizational Management. While attending school she earned memberships in Phi Beta Kappa Honor Society and Alpha Sigma Lambda Honor Society. Carla was previously employed at Smith & Nephew, Inc. in Memphis for eight years and, prior to that, worked at Hernando High School and in the Payroll Department of Desoto County Schools.
Carla is mother to son, Matt, and daughter, Bri, and both grew up right here in Hernando and attended Hernando Schools. Matt and his wife, Elizabeth, live in Eudora, while Bri and husband, Chris Jackson, have also made their home in Hernando. She feels lucky to have her children, mother, family members, and friends in such close proximity. Currently, Carla shares her home with her two rescue dogs, Tucker and Mr. Pete. She is also an active member of First Presbyterian Church in Hernando where she taught children's Sunday school for many years. In her free time, Carla loves listening to music, reading, and traveling. She especially looks forward to her annual beach trips with family and friends. She enjoys the small town atmosphere of Hernando and believes the sense of community in Desoto County makes this a very special place to live and work.
The world of dentistry is a whole new experience for Carla and to help with this transition she has joined the American Association of Dental Management. As Carla looks forward to learning more about and growing with our practice, she is also excited to begin involvement with civic organizations within DeSoto County. Having the opportunity to serve her community through her new position here at DeSoto Family Dental Care is one of the many reasons Carla has found dental team management so appealing. Even in the short time here with us at DFDC, Carla Samuels has already made such a positive impact on our practice and we look forward to a long partnership with her to continue to enrich and serve our patients and our community.